Melbourne Fashion Festival gets a new CEO
Over the past 10 years, the Melbourne Fashion Festival has been a leader in diversity, sustainability and inclusion but future chief executive Caroline Ralphsmith thinks the organization can do more, with the help of businesses like in Victoria Bitter.
"There's an opportunity to educate the public," Ralphsmith said. "Especially when it comes to sustainability and upcycling. It's much more important to increase community and civic outcomes, than to be something more decorative. In diversity there is an opportunity to make a statement."
Ralphsmith has made a quick corporate change, having been chief executive at Fed Square since February 2021, after five years at Victorian Racing Club, where he worked as general manager for customer relations. Joining the board of the Melbourne Fashion Festival in October, Ralphsmith, known as Ralph, couldn't resist the opportunity to focus on fashion.
"I had an unsatisfying attitude, loving fashion from the moment I could do it," Ralphsmith said. "Mom always tells good stories of making her own clothes and had to wander into something extra when she was told that her skirts were too short. As a student, make I got my own clothes for the black tie balls and I passed that on to my daughter. Now I'm more of a doctor. "
In August Ralphsmith replaced the vacant role of Graeme Lewsey leading the Melbourne Fashion Festival through three naming rights promoters, promoting the inclusion of First Nations designers, perpetuating and adapting fashion. Lewsey resigned in February after undergoing treatment for head and neck cancer. He is currently in remission and working as an ambassador for Head and Neck Cancer Australia.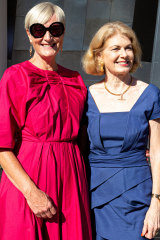 During Lewsey's time, Melburnians were treated to runway performances from Celeste Barber, plus-size activist Ashley Graham and enduring supermodel Helena Christensen. The festival, which has been running since 1996, is a ticketed event open to the public, unlike the trade-focus of Australian Fashion Week which recently concluded its Resort 2023 season in Sydney on Friday.
"We are very pleased to welcome Ralph as the new CEO, at a crucial time as we embrace a new era of opportunity and growth for the festival," said Laura Inman, Melbourne Festival chair at a written statement. "Ralph brings the depth and breadth of skill and leadership essential for optimizing our ambitions."
Those ambitions could include greater collaboration for non-profit organizations in the corporate sector, with Ralphsmith promoting Victoria Bitter's team-up with Melbourne brand Strateas Carlucci from this year's festival.