New Guccidas and Hunter Schafer for Prada: What's in Fashion
So it may be Friday the 13th and we may all be wearing rosaries and crucifixes and sageing our surroundings to ward off bad spirits today, but we have a bunch of exciting fashion news to manifest some chic vibes to get you through. You're so welcome.
Anyway, most of that good news comes from the girlies of Euphoria, who may have left our TV screens a few weeks back but are still taking over the sartorial world. After Sydney Sweeney became the face of the Miu Wander bag earlier this week, we now have new campaigns from Hunter Schafer for Prada and Chloe Cherry for Versace. There's also an exhibition for the birthday of Mr Valentino, as well as stunning collections from Jean Paul Gaultier and Lotta Volkova, Miaou and Paloma Elsesser, and an accessible range of garms from Lacoste designed by a paralympian!
Finally, we have some more announcements from Balenciaga, Guccidas, Mulberry and Browns as well as a fundraiser held in London this weekend in support of Ukraine and with items on sale from some of the best artists, designers and creatives globally. Here's what's in fashion.
Jean Paul Gaultier's new collection has sexy, inappropriate looks for your next wedding or funeral
If there's one fashion trend we adore at the moment, it's 90s and 00s style with a contemporary twist and that is exactly what Jean-Paul Gaultier are serving with their new ready-to-wear collection in collaboration with i-D's Senior Fashion Editor at Large, Lotta Volkova. The renowned stylist traipsed through the JPG archives, picking out the most iconic pieces from their incredibly iconic history and editing them with a 2022 sexuality. The famed velvet cone dress of 1984 (most known for adorning muse Tanel Bedrossiantz in 1992 and, of course, a corset variation on Madonna on her Blonde Ambition tour in 1990) is now a ruched blush mini dress that we could totally see being worn by Euphoria's Cassie the next time she's hiding in a bathtub, along with cone bra tops and matching bottoms. There's also cute babydoll dresses in child-like proportions — with gloves and a Victorian-esque veil to boot — and trompe l'oeil naked dresses, both tributes to the Gaultier FW 2004 – 2005 collection. Whilst sports motifs play out in the eight heeled pumps reminiscent of both studs on a football boot and the court shoes in Gaultier's SS 1993 runway, fetish dressing also makes an appearance in S&M harness detailing and flirty gartered-stocking-style leggings. Available to buy now, a fun campaign – captured by Johnny Dufort – shows the sexy collection in pastel tones at the wedding of Lotta's dog Dimitri, and the all-black ensembles for his funeral as he ascends to doggy heaven (RIP). We know what we're wearing at our next family event. TG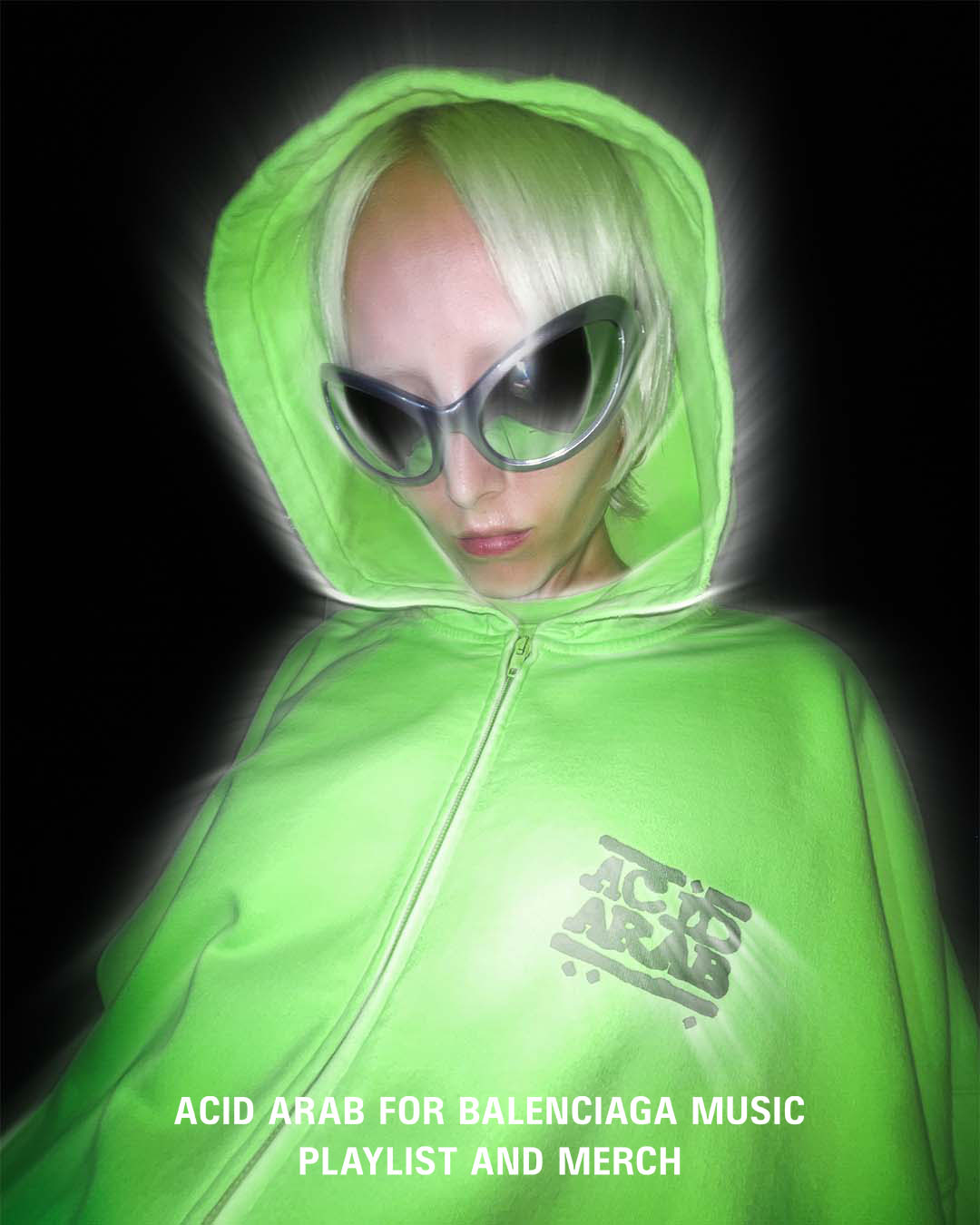 Image courtesy of Balenciaga.
Balenciaga Music x Acid Arab
Granted, there are a couple of top contenders when it comes to the fashion house with the best music plugs, but a dead cert among them is Balenciaga. Whether it's the new-wave and nosebleed-techno of the house's shows scored by BFRND, or the exclusive Apple Music series that launched back in the early days of the panny-d, inviting everyone from Rammstein to RuPaul to Aya Nakamura to put together a playlist for the house, few fashion players are quite as well anchored in the music world as Demna and his gang. Well, if you've been hankering after a new entry in the series, your prayers were answered last week when Balenciaga released a brand new playlist compiled by French electro band du jour Acid Arab! Just as you'd expect from a duo who's self-professed remit is ​​"to mix all kind of Eastern music (North Africa, Lebanon, Egypt, Turkey or… Mumbai) with electronic sounds, from pioneering acid house to today's powerful techno", it features tripped out beats and remixes rooted across the MENA region. It's so damn good that you'll probably want a piece of merch to commemorate the occasion of your first listen… well, your wish is Balenciaga's command! To celebrate the release, the house has teamed up with Acid Arab on a appropriately acid-hued capsule of hoodies, sweatshirts and trackies. Cop yours here – quick! TG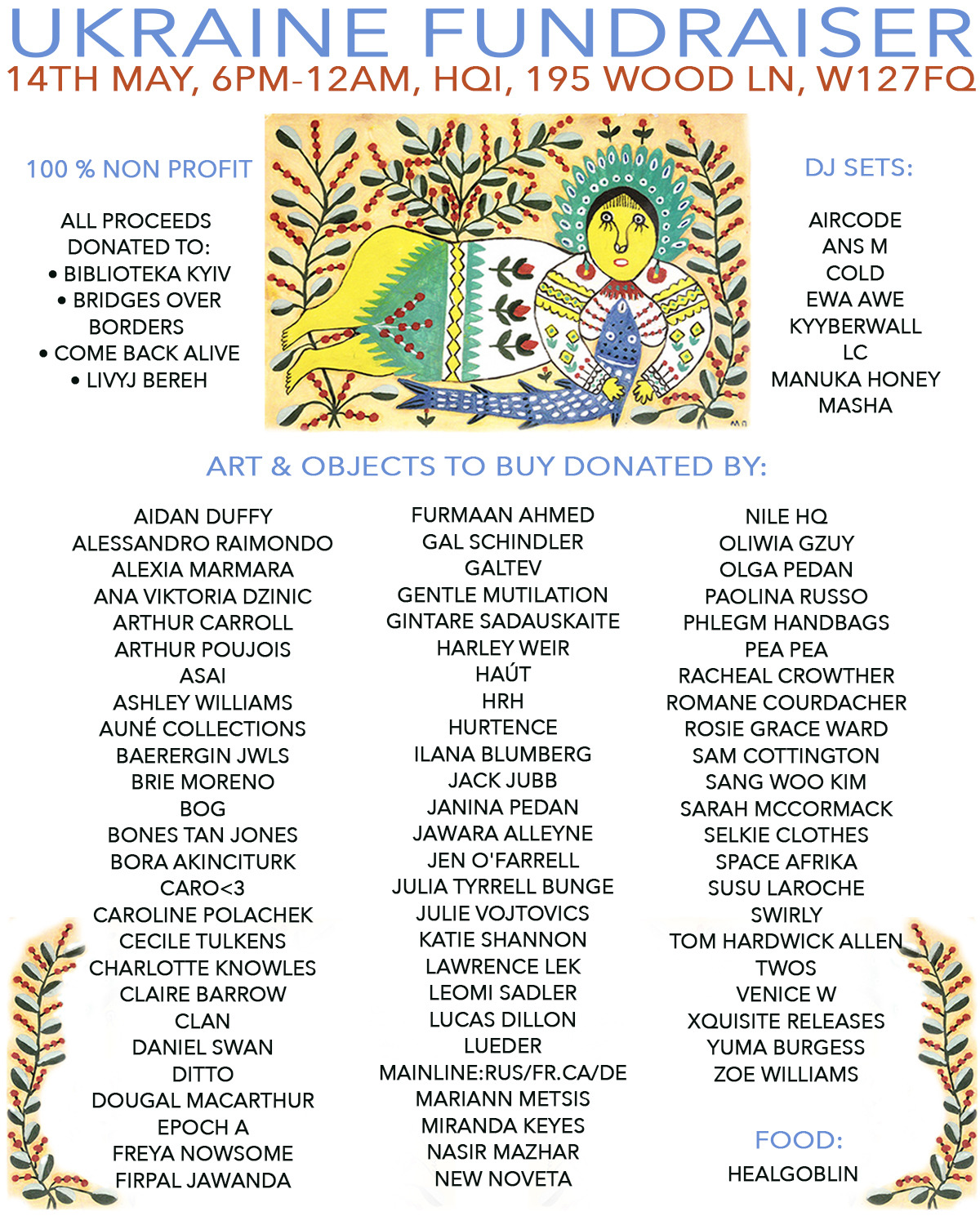 Image courtesy of Golubka 4 Ukraine.
Harley Weir, Caroline Polachek and Jawara are donating items for Ukraine
If you're in London tomorrow, a fundraiser for Ukraine is being held from 6pm until midnight with works donated by some very prolific artists and creatives, and DJ sets from some of the most exciting names in the UK scene at the moment, with all proceeds going to support grassroots organisations. The countries libraries Biblioteka Kiev, international peacekeepers Bridges over Borders, Come Back Alive (who support soldiers with purely defensive initiatives) and humanitarian aid fund Livyj Bereh will all benefit from the sales of items from Harley Weir, Asai, Paolina Russo, Caroline Polachek, Miu Miu, Jawara Alleyne, and many more. To donate directly or buy tickets for the fundraiser in west London, head to the @golubka_4_ukraine Instagram page. TG
Happy birthday Mr Valentino!
This week the last emperor of fashion turned the big nine zero and we celebrated with a look back at some of his most iconic fashion moments from our favourite style era: the nineties and early noughties. Think: Naomi Campbell in a beaded sheer ass-revealing gown, the striped dress worn by Linda Evangelista and Zendaya or that Julia Roberts Oscar dress. It's all very stunning! But if you wanted to see some of the designer's best work from his archives IRL then a new exhibition has opened at the Teatro Sociale of Voghera, Italy, in the city Valentino himself was born in, that will run from 11 May to 5 June 2022. Within each balcony of the theatre is a garm from the 60s to the late 00s (when Valentino retired) with the stage then dedicated to the gowns in that signature red tone that made an appearance in all his collections and a major part of his legacy. The exhibition is a beautiful reflection of the elegance of Valentino's work and the way his fashions were beloved by actresses at the top of their game. We may or may not be drawing up plans and enlisting Rihanna to heist the entire exhibit Ocean's 8 style. Alongside the exhibition Maison Valentino has also released a new limited edition hoodie adorned with Valentino's famed quote "I love beauty, it's not my fault" with all profits going to Fondazione Valentino Garavani and Giancarlo Giammetti. If these are the celebrations for Mr V's 90th, we can't wait for 100! TG
Chloe Cherry is the new face of Versace and SSENSE's accessories campaign
Euphoria star and queen of the dissociative pout Chloe Cherry had all of our attention during fashion week when she'd appear front row, or even walking the runway, for some of the coolest names in fashion right now. Well, fashion week might be over but Chloe isn't done yet as she's unveiled as the face of Versace's SS22 accessories campaign. Very much the main character in those Bratz-style platform heels and exquisite leather goods complete with a leather Versace insignia, variations of the icon stomp around an office setting in her own multiverse, playing with the high-tech machinery, staring spacey-eyed into the camera and sensually saying both fashion brands names in videos from the Italian house and global retailer SSENSE. We're calling it now, season three of Euphoria is going to have Chloe visiting Fez in prison, swinging one of these Versace bags full of contraband she's snuck in. TG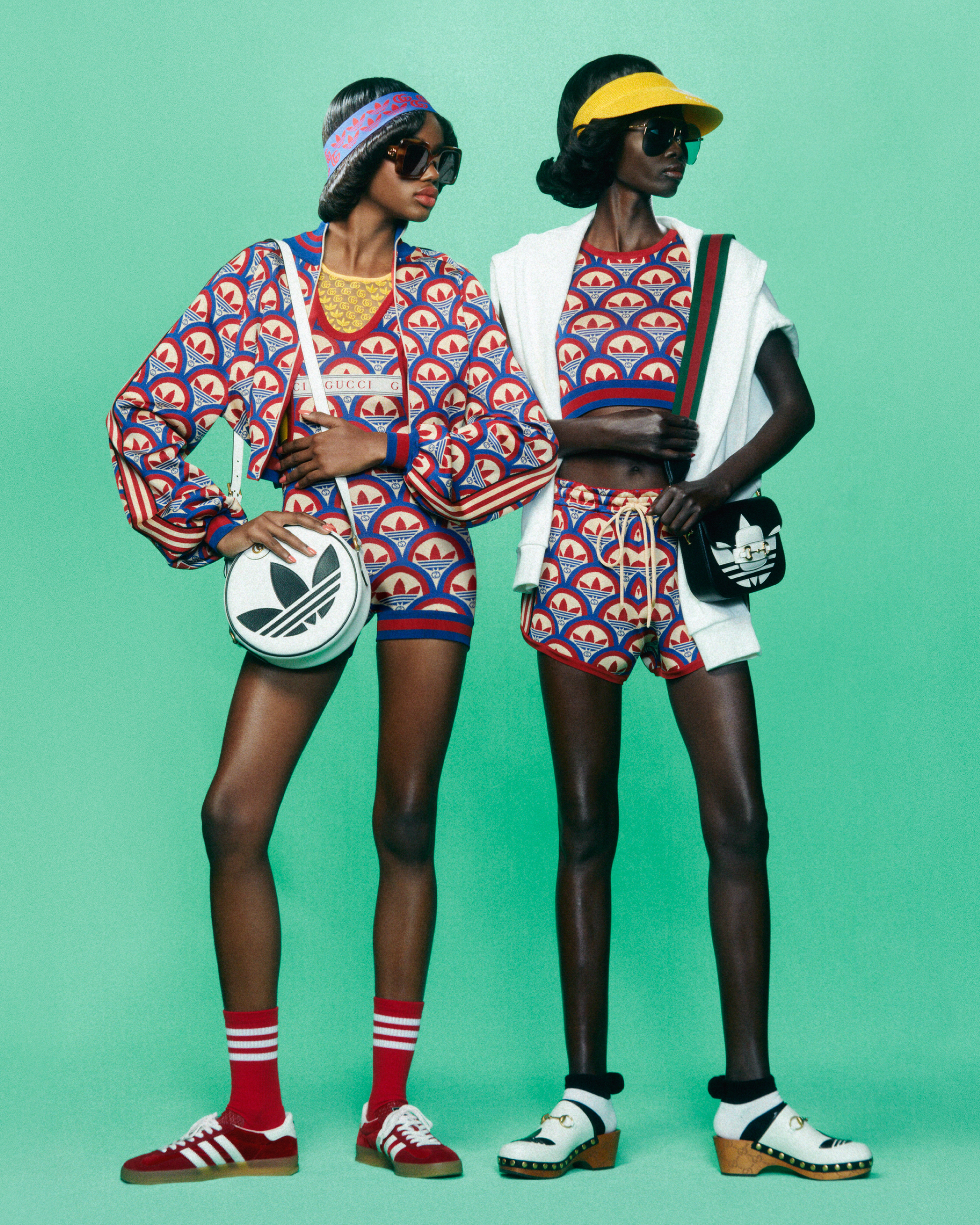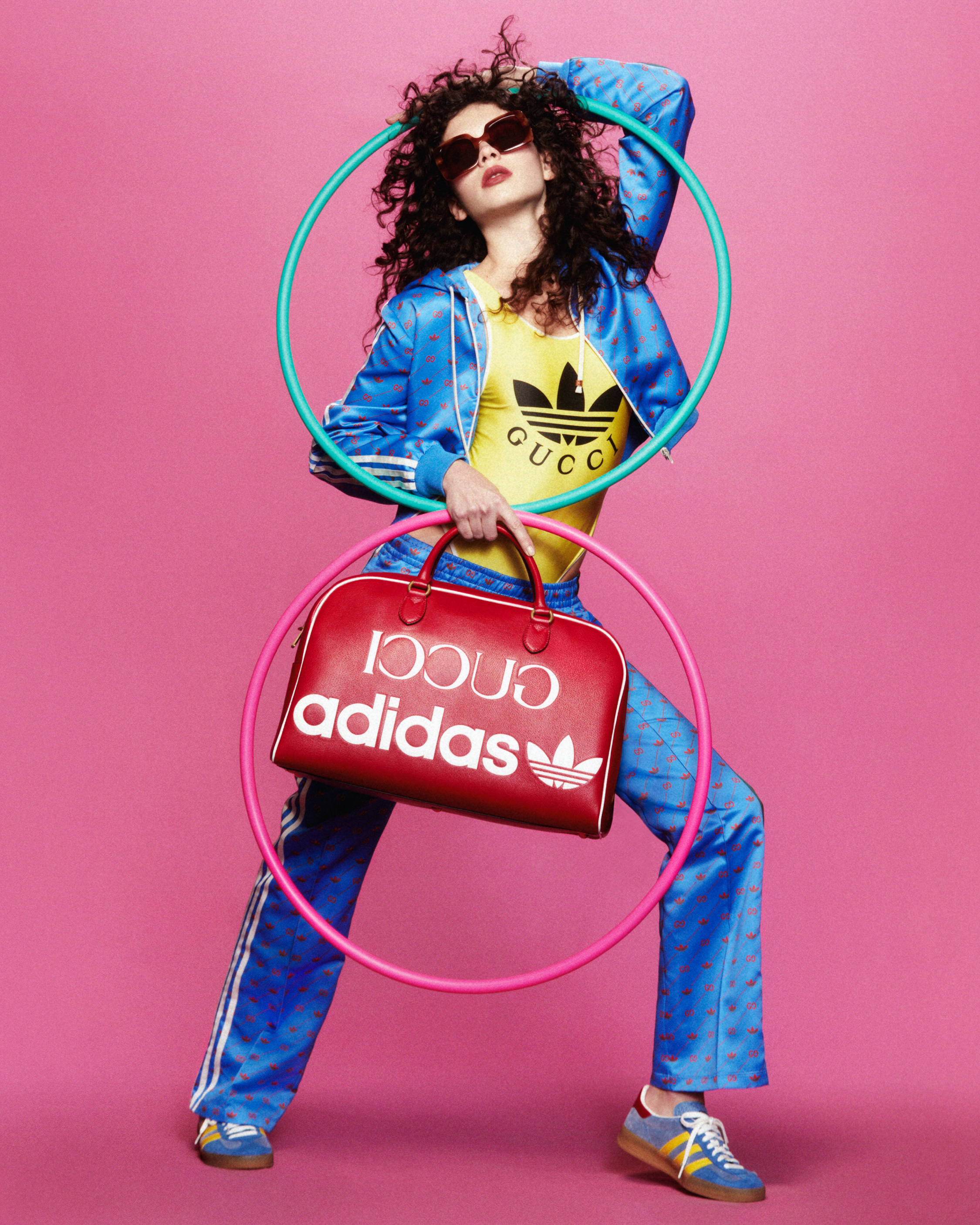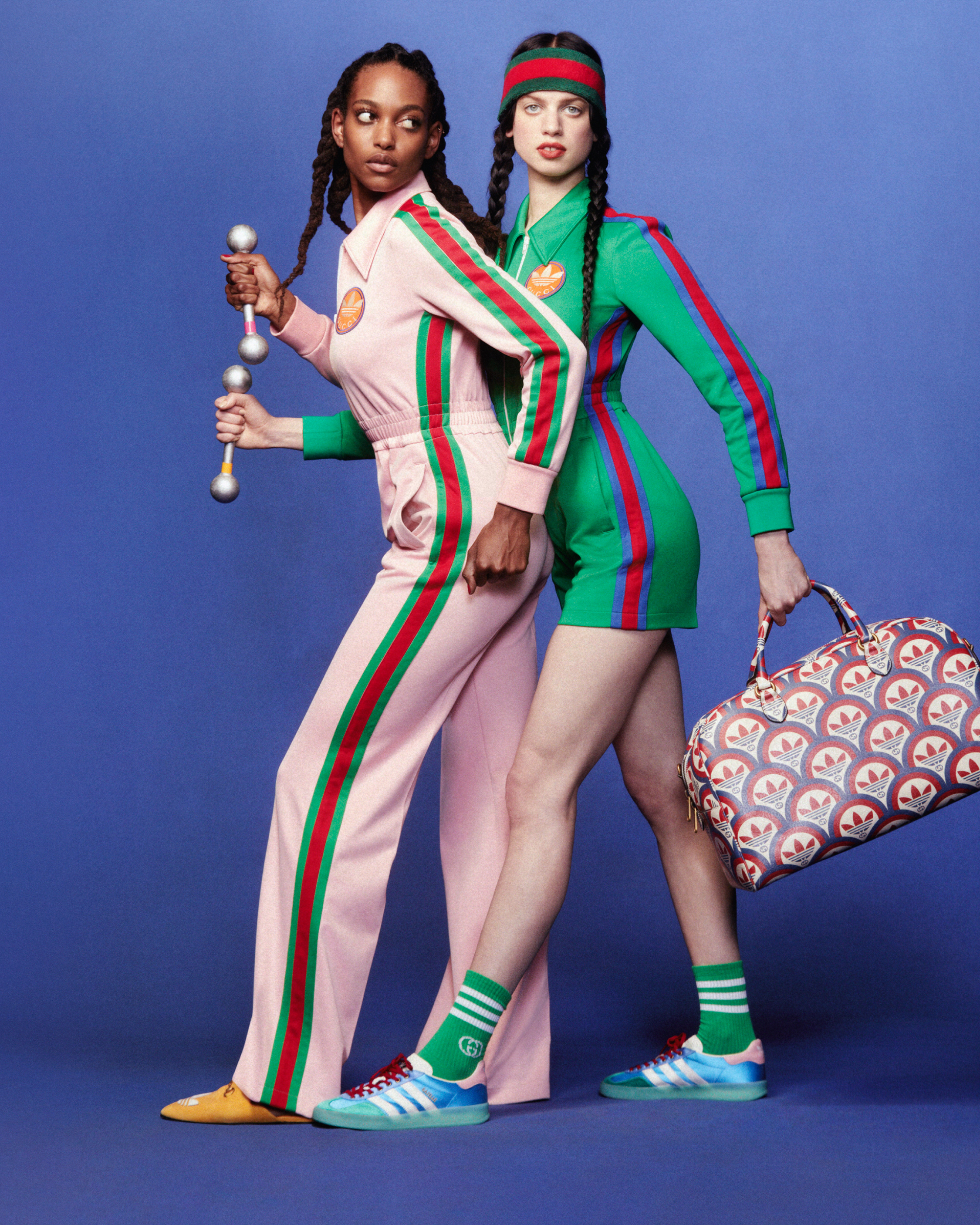 Images courtesy of Gucci.
Guccidas campaign
Though the rumours were churning about it long before its formal debut, the arrival of Gucci's much-buzzed-about collaboration with Adidas during it's most recent Milan Fashion Week show still managed to be one of the biggest jaw-drop moments of the season. Well, prepare for it to hit the floor again! This week, the Italian house dropped a whole new facet to the collaboration, expanding on the sartorial streetwear pieces that were featured in the show. Departing from a similarly kaleidoscopic aesthetic, this expanded offer brings a new breadth of sporty pieces into the mix, from sweaters bearing the Gucci logo and Adidas' iconic Trefoil moniker and track pants with the Adidas three-stripe down one leg and Gucci's iconic monogram Web in the house colours. Presented in a dynamic lookbook shot by Carlijn Jacobs, it's giving the vibrant, summer vibes we all need to start soaking up – and from June 7th, you can do just that by heading to select Gucci stores, dedicated pop-ups, or the Gucci site. So many options! MS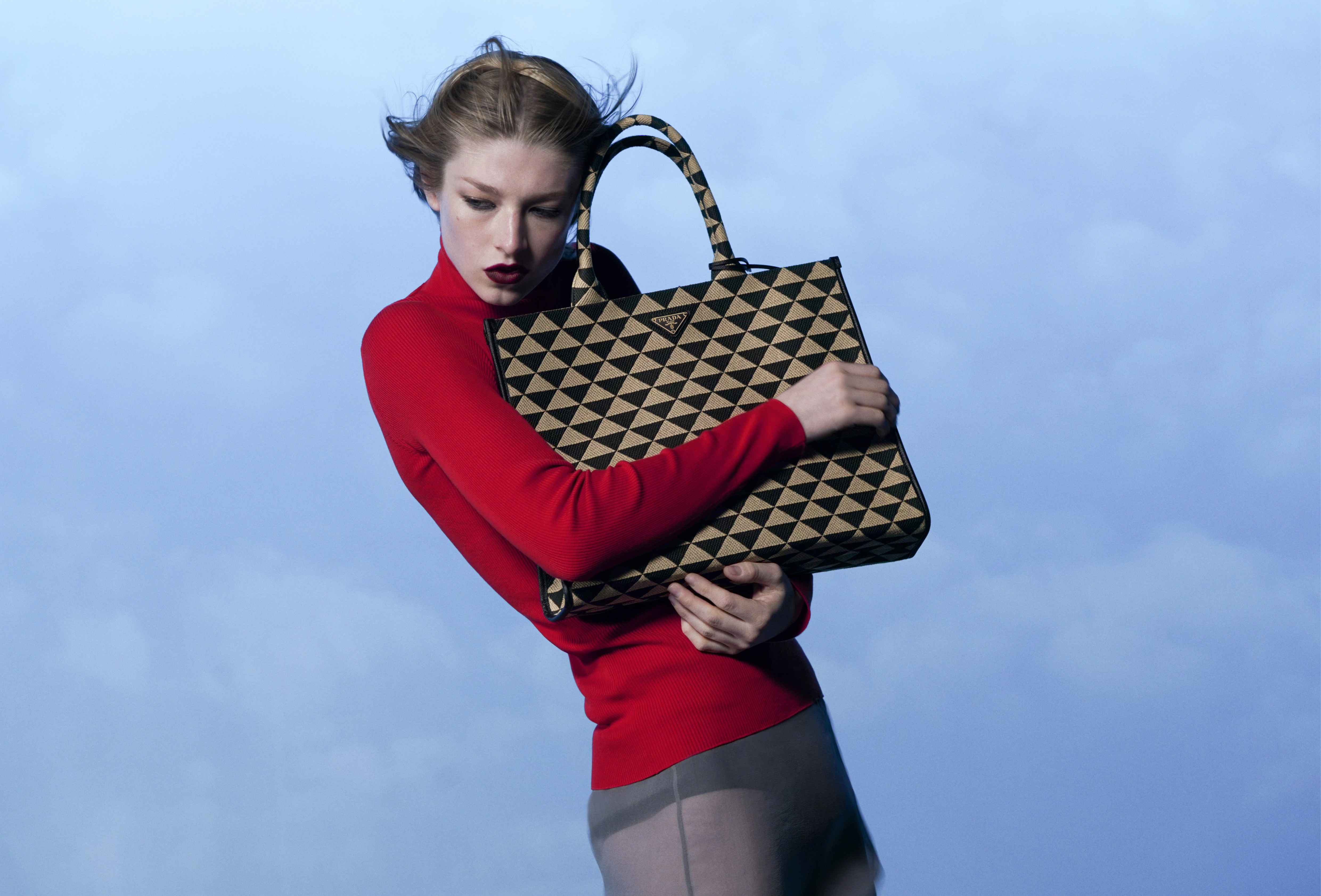 Photography Carrie Mae Weems.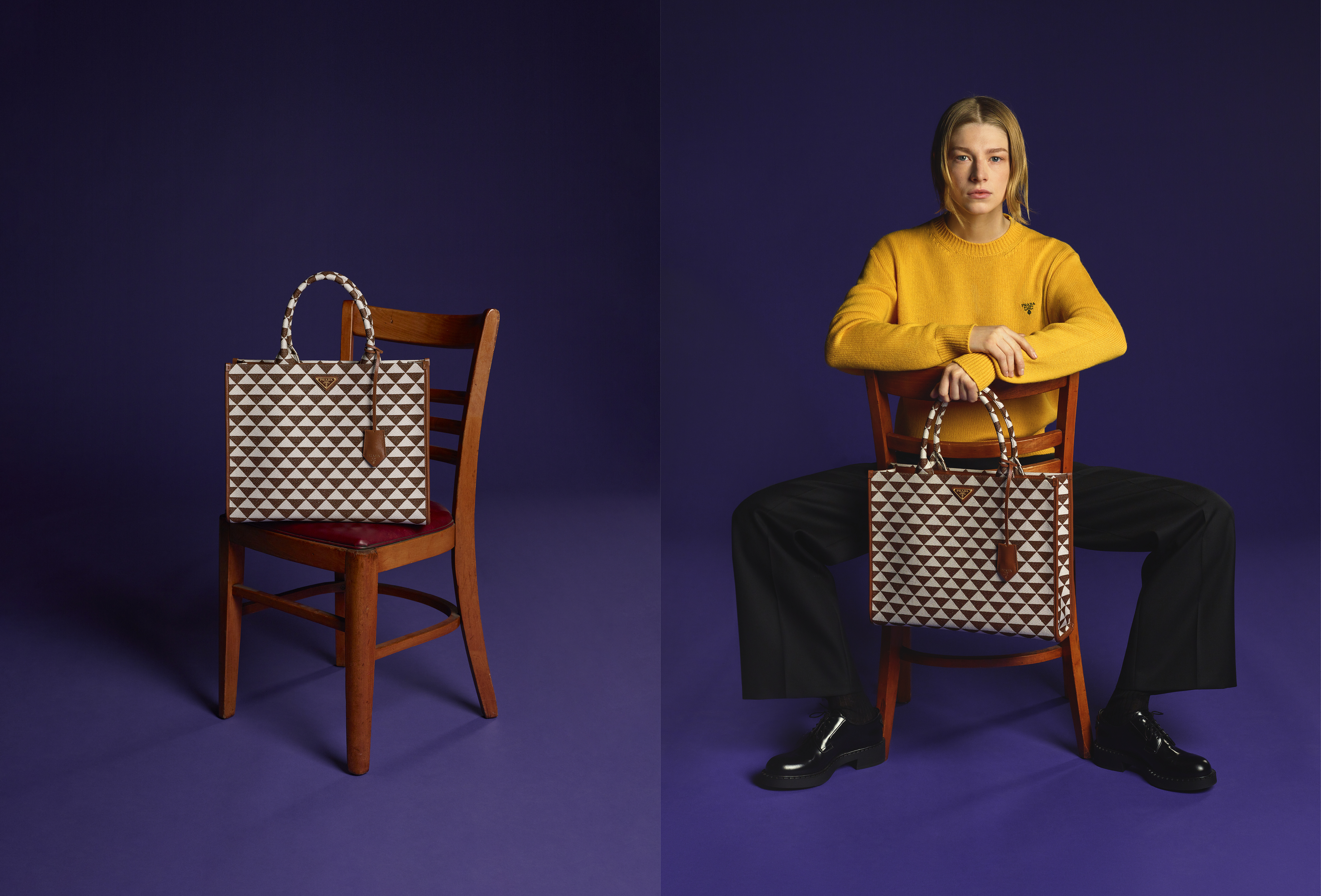 Photography Catherine Opie.
Photography Thomas Ruff. Images courtesy of Prada.
Prada Symbole
Ok, so the girls of Euphoria have not come to play over the past few weeks! After last week's announcement of Sydney Sweeney as the face of Miu Miu's latest bag campaign, this week saw her co-star on the hit series and recent i-D cover star, Hunter Schafer, in a knockout campaign for Prada. Sporting the house's graphic jacquard, the three-part image series breaks new ground not only for the calibre of the images, but also on account of who shot them. Rather than hand the camera over to a single renowned fashion photographer, the Milanese house opted to enlist three of art's modern masters: Catherine Opie, Thomas Ruff and Carrie Mae Weems. Capturing Hunter through their distinct visual perspectives, the result is a campaign that blurs the boundaries between the disciplines of fashion and art. That's hardly a surprise, though, given that it's something that Prada has a longstanding reputation for anyway! MS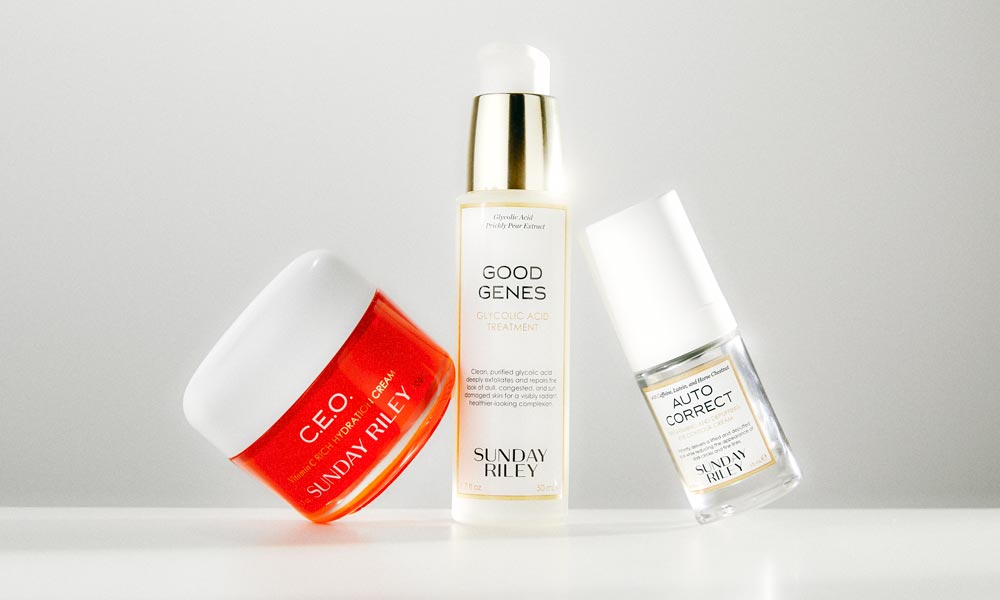 Image courtesy of Browns.
Sunday Riley facials at Browns
Dress in all the fancy clothes you like, the thing you really should be looking after is the visage, darling! Sure, you can cop a new Balenciaga Le Cagole once your wear one out, but the face is one of the things you can't replace! Ok, well, I'm sure there are many aesthetic surgeons out that would debate that, but our point here is that it's something you should be taking damn good care of. While some may favour more invasive treatments, we're fond fans of a good facial. And if you're London-based, there are few better places to head for one than the brand new Beauty Studio at Browns East. If you stop by between May 19th-22nd and May 26th-29th, you'll be able to book in to experience an exclusive menu of 30-minute signature facials by cult skincare brand Sunday Riley.
Mulberry's Lily bag gets a sustainable makeover
Do you know what's the only thing sexier than a new Mulberry bag? A new carbon-neutral Mulberry bag. The globally-beloved British leather makers have announced the Lily Zero – the signature Lily silhouette, with its chain strap and postman's lock hardware, but now made from leather from a German tannery that measures, reduces and offsets their carbon emissions. It's part of Mulberry's promise to have net-zero greenhouse gas emissions by 2035 and this particular material has become the go-to for all the heavy grain styles in the AW22 collection, making up 26% of all its leather. So you don't even have to get out of the house to check if the Lily style fits your vibe, an upcoming Instagram filter will also allow you to try on the bag in a fun ethereal landscape. Available in hues from hot pink to oak and a Vichy ebony pattern, the Lily Zero is now in-store and online at mulberry.com.
Lacoste have released an accessible collection for all with paralympic swimmer Théo Curin
Of course, we're well used to the crossover of fashion and sports, from the footballers fronting the campaigns of major houses to collaboration trainers and sportswear. But it took till 2022 for that space to be occupied by a non-able bodied sportsperson. That glass ceiling was broken by quadri-amputee swimmer Théo Curin, who worked with Lacoste to create a new collection designed to be accessible and stylish for all. In an event on Tuesday evening at Lacoste's Knightsbridge store to celebrate the collection and Théo recently swimming the longest crossing of Lake Titicaca in South America (the first person on record to ever do so), the swimmer lamented that clothing made for disabled people is rarely attractive. For him, the desire of this collection was to make garments that allow disabled wearers to dress themselves independently whilst its adaptations appear seamless and fashionable in their own right. The result is pull strips on the zips and sleeves of marine-hued jackets, hoodies and tops; magnetic studs in replace of buttons on Olympic-style polos and a nifty backpack with a pocket on top to avoid having to scrounge around at the bottom for your keys – a universal problem tbh! Check out the full collection here.
But first, the uber-charming Théo tells us – his answers translated from his native French – about working on the collection, his relationship to fashion growing up, and the little details in the garments he helped make that he's most proud of. TG
**Hi Theo, how does it feel to be the first handisport athlete to have a fashion collection?
**It's a great source of pride. When we're children we all need to identify with someone, with a sportsman. Today I am proud to show that you have to believe in your dreams. This collection would never have seen the light of day a few years ago. Mentalities are evolving and that's what I'm most proud of, to be pushing things forward.
**Were you into fashion growing up?
**My interest in fashion came as I grew older. I've always had a rather simple look and, it's funny, it's when I moved to Paris that fashion became more important [to me]. I started to pay a little more attention to my style and dare to dress a little differently.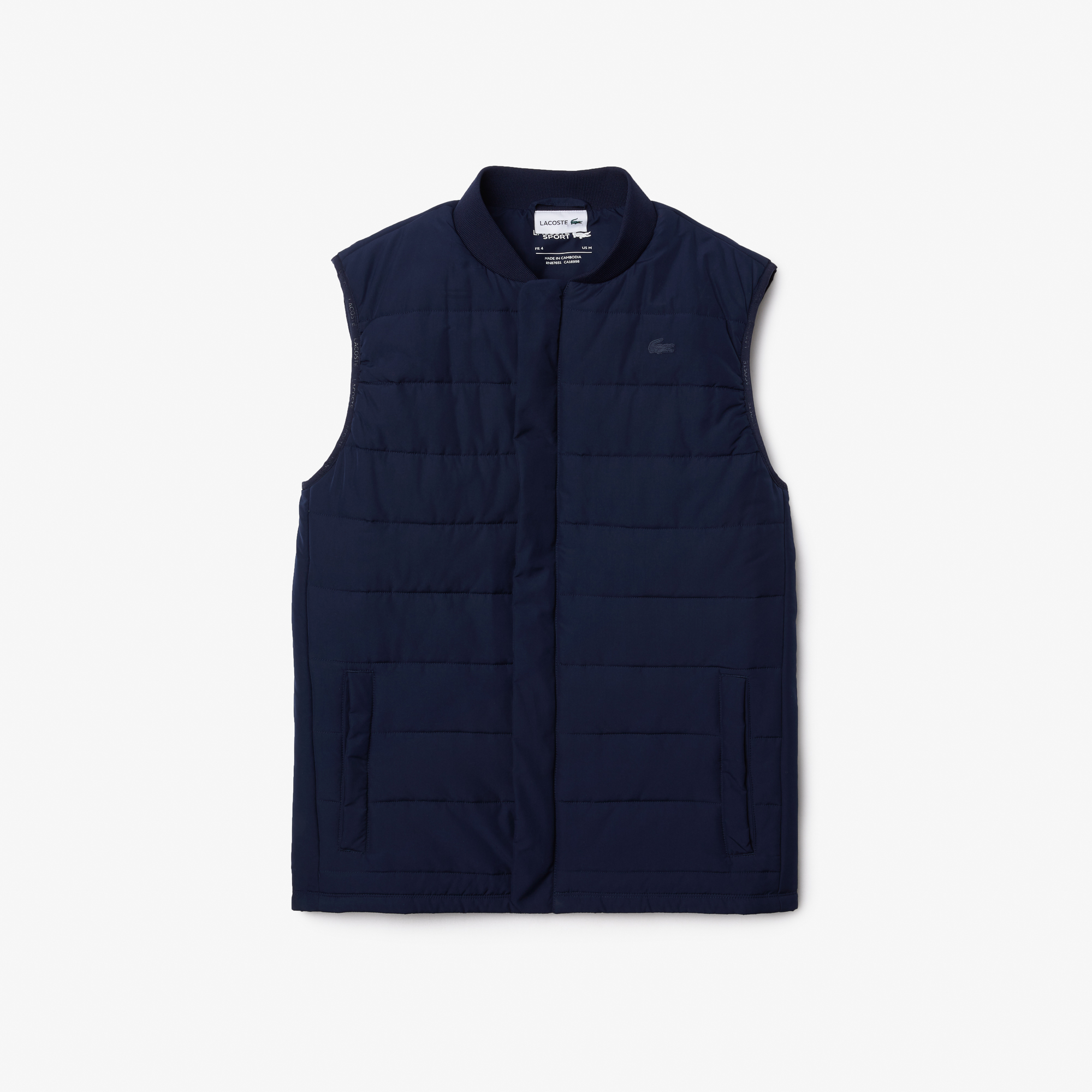 **Tell us about the process of creating this collection. What were your favourite parts of the process?
**I was involved in every step of the design of the collection, from the choice of the logo to the selection of products, materials and colours. I really enjoyed being able to contribute my ideas and, in particular, suggest adaptations related to my disability.
**How did you and Lacoste go about making this collection accessible to all
**I worked in collaboration with the Lacoste team to ensure that certain finishes and details were worked on and designed so that people like me could dress independently, such as elastic bands on the sleeves of sweatshirts to make them easier to pull up, and press studs on polo shirts to close them easily.  But it's not just an adapted collection, it's more than that. It's a collection made for everyone, not just for people with disabilities.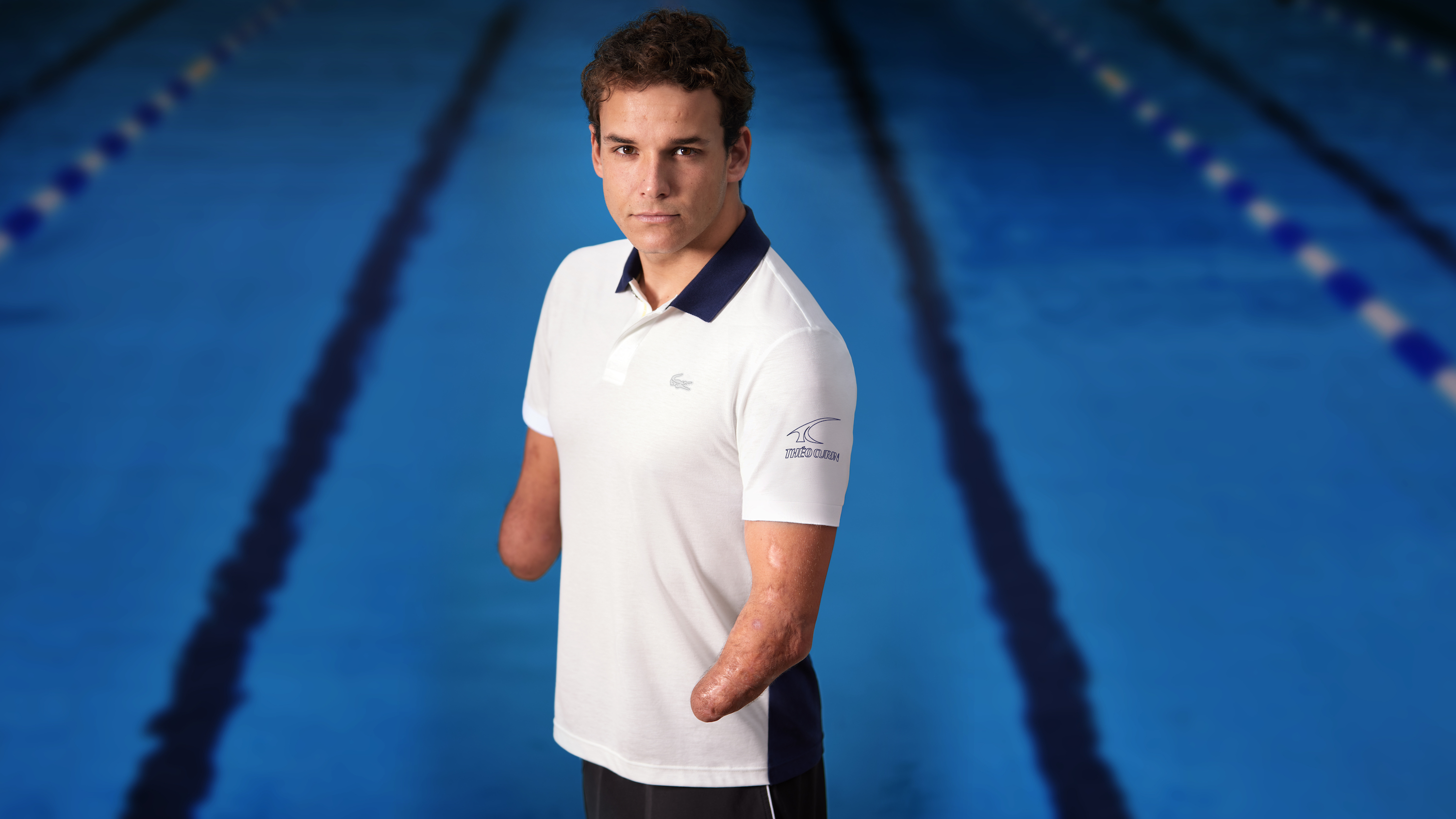 Images courtesy of Lacoste.
Which is your favourite item from the collection and why? My favourite item is the hoodie. First of all, I really like the colours green, white and blue. They evoke the marine world and water. And then I like the functional details of the sweater which bring something new and interesting. These simple little ribbons may seem insignificant and yet, I find that they bring a stylish touch to the sweater while, for people with arm disabilities, make our lives so much easier to dress.
**Some of the items have your mantras adorning them, "Follow your dream", "Keep smiling" and "Your difference is your strength". Why are those quotes special to you?
**These are phrases that are dear to me. I repeat them to myself when I am faced with difficult​ moments. I've had quite a few of those in my life with my illness and I still have them today like everyone else.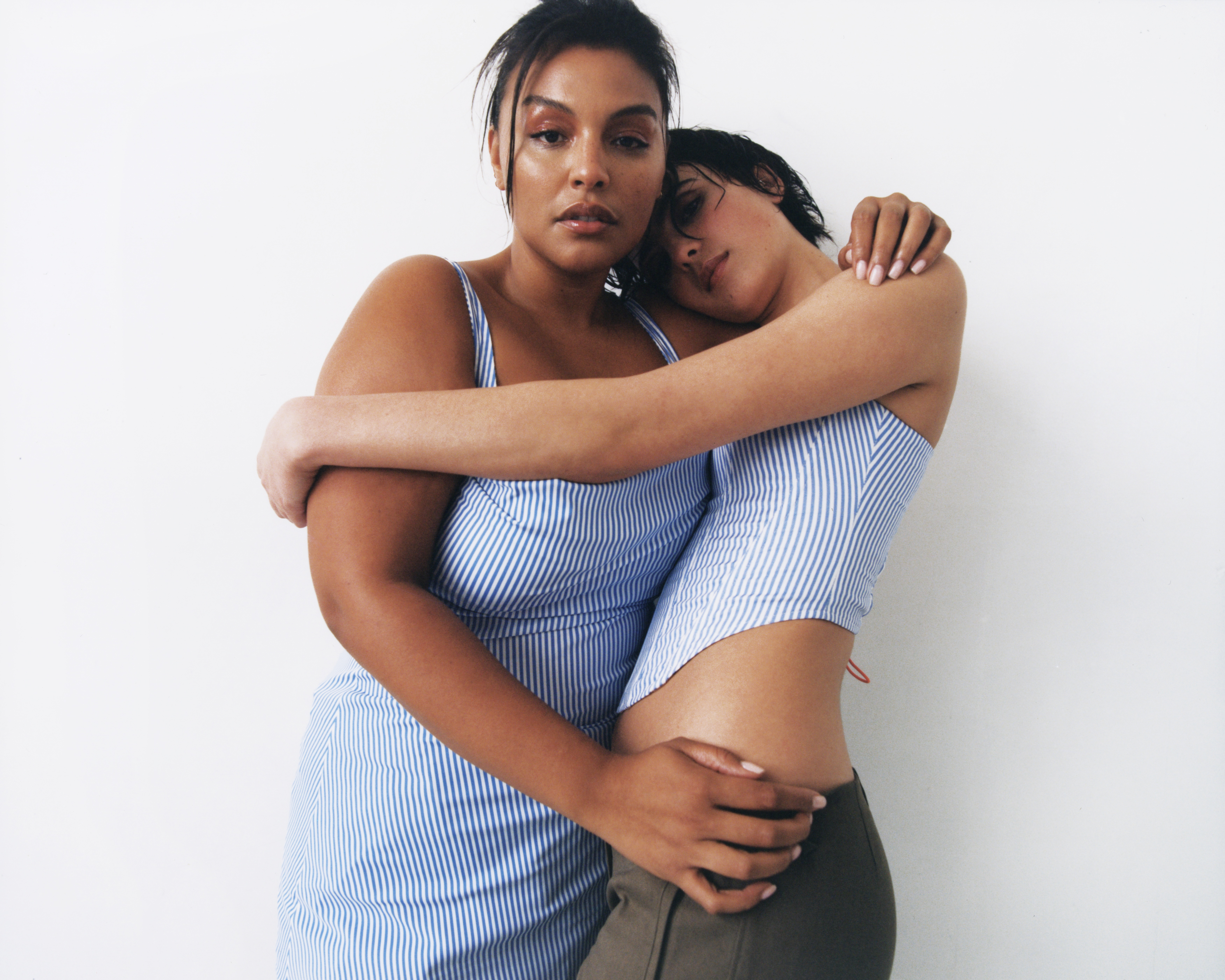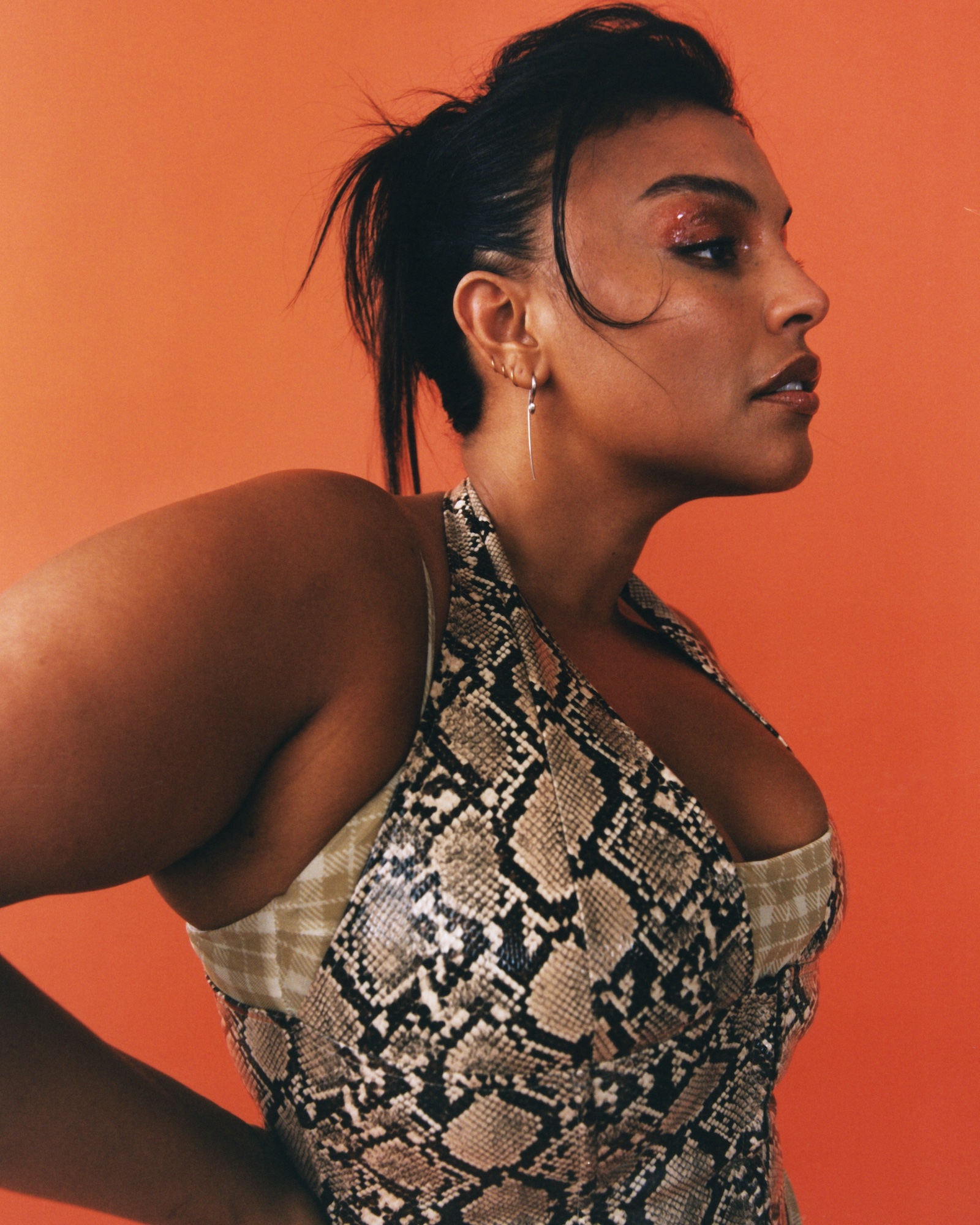 Images courtesy of Miaou.
Miaou and Paloma Elsesser have launched a range for the plus-sized girlies
For her stunning spring cover for i-D, model Paloma Elsesser spoke about how she often felt "relegated to a corner" in the fashion industry for being considered a plus-size model and that the SS22 collections were both the sexiest runways ever, and the least body diverse. But Paloma herself, who has already done a lot for calling out sizeism within the fashion world, has now launched a collection alongside Miaou, founded by her bestie Alexia Elkaim. The collection of snake print corset tops, Alexa Demie-style tie-up bodysuits, gingham blouses and patchwork skirts and mini dresses from the LA brand, beloved by Bella Hadid, will come in sizes XS to 4XL. As Paloma works with the label to make this a norm across their core and new collections, it serves as an example that even the brands without large-scale corporate funding can still do their part to push conversations and the industry forward. We stan. Check out the collection now at miaou.com. TG
Follow i-D on Instagram and TikTok for more on fashion.